Kiddy is designed for children and is the children's cover on the market with maximum cushioning. Fireworks, festivals, concerts – there are many situations with noise levels that are detrimental to children's sensitive hearing, and where there is a need for protection. Kiddy is easy to use for young children and is comfortable with their soft pillows in the jumper and in the ear cups. The cover is suitable for children between 6 months and 10 years.
Suitable
To protect children's hearing at high noise levels
To increase the concentration of children in environments with a lot of garbage
For children between 6 months and 10 years
Durability and cleaning
Kiddy lasts for about 1000 hours of use. You will probably therefore only need to buy a cover that your child can use until the child has grown out of size. To keep Kiddy clean, wipe the pillows with a damp cloth and then let them dry.
Supression:
European Standard EN 352-1:2002  Attenuation data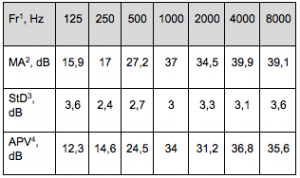 SNR: 29 dB
H: 34 dB
M: 26 dB
L: 18 dB
1 Frequency (Frekvens)
2 Mean Attenuation (Medelvärde)
3 Standard Deviation (Standardavvikelse)
4 Assumed Protection Value (Förväntad skyddseffekt)